The Contemporary LongRifle Association is proud to sponsor this project by the House brothers. BlackPowderMag is equally proud to help to promote this activity.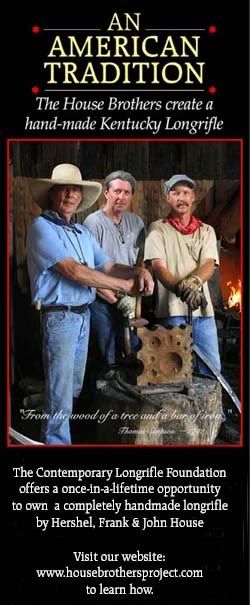 Through the collective efforts of three renowned Kentucky gun makers, Hershel, Frank, and John House, a special handmade longrifle has been created for the CLF as a fundraiser. The proceeds from the "An American Tradition" House Brothers Handmade Flintlock Longrifle Project will enable the Foundation to continue its mission to promote the art of the Kentucky Longrifle and related arts through publications, museum exhibits, grants, and promotion of contemporary artists.(This paragraph reproduced with permission.)
Please use this link to learn more about the project and how you can participate.
The House Brothers Project – AN AMERICAN TRADITION