During our second year of commemorating of the War of 1812, the 2013 CLA Fund Raising Auction promises to be another significant event. Twenty-five generous CLA artists have stepped forward to create their art and donate it to be auctioned at our Annual Meeting and Show on August 17, in Lexington, Kentucky.
Everyone is in for a real treat. Not only will you be getting an advance preview of the 2013 fund raising auction items here, but you will have an opportunity to get to know these artists, learn a little about them and how they created this fine array of items for the auction. Individual works will be added to this site as they are received, so visit often to see these new exciting creations.
A Woodland Native Prisoner Tie by Darrell Brandenburg with Quillwork by Tom Gifford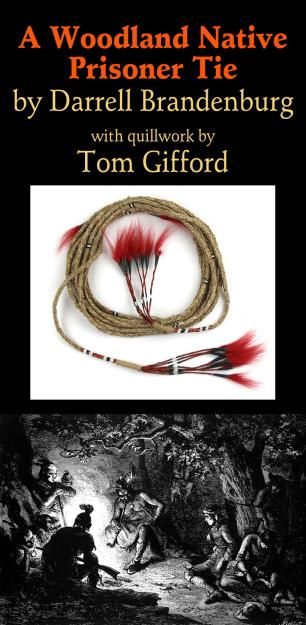 Darrell Brandenburg was born 1941 in the northern tip of the Lower Peninsula of Michigan. He was raised on a farm some 30 miles distant from Alpena, the nearest large city. All of his life Darrell has been interested in American history, hunting, primitive skills, camping and being outdoors. These interests have been logged in over 30 years of historical reenactment. During that time Darrell made the majority of the accoutrements he needed for portraying various persona, developing the skills and artistic vision he has today.
It wasn't until he met and married his current wife, Mary that he began a journey into Woodland Native reenacting. At one point Mary asked him if he could make some rope for their camp that didn't have that "mass produced" look. After Darrell mastered the art of hand-twisting jute twine into serviceable utility rope, he looked to other fiber-arts projects that could keep him busy during his retirement. Around this same time (2006) he met David Wells and took instruction from him on how to do an 8-strand box braid – the essential work for the Woodland Native Prisoner Tie. The Prisoner Tie is an art form in itself, akin to the Plains Indian coup stick as a status object for the owner.
In the years since he first met David Wells, Darrell has perfected the braiding technique as well as mastering the application of the deer-hair tassels and leather keepers. His wife dyes the deer tails and Tom Gifford takes care of doing the quillwork appliqué to the end fringes. In total, Darrell has produced well over 100 such Ties. The majority have been given as gifts to other Woodland Native re-enactors Darrell has known. The gifts recognize a certain "spirit and love" for reenacting the ways of The First People and in turn sharing that same spirit and love with visitors to events.
The 24 foot Prisoner Tie donated for the 2013 CLA Fund auction is hand made. The body is made from 100% hand-corded hemp. No machines, of any kind, were used in the production of this cordage; it is all thigh-rolled in the traditional Native manner. The leather keepers are from smoked brain tan deer hide done in the true primitive Native style by one-off tanners here in the USA. The deer hair & cone tassels are produced in-house by the Brandenburgs. Darrell hand rolls and antiques the cones from flat stock; each one cut and rolled individually and then individually antiqued. The deer tail hair, from local meat processing shops, Mary hand-dyes via a process of washing, cleaning, stabilizing and dyeing in various shades of reds and orange-reds.
The quillwork is applied by noted CLA artist Tom Gifford, using his tried and true techniques. In Tom's words, he describes his art, "I've been quilling for about 13 years using traditional methods as well as contemporary and it's truly my passion or I should say obsession. I use the best materials that are available from brain tan buckskin and natural dyes down to handmade cones. I give seminars and teach people who wish to learn about quillwork. I also would like to mention that with organizations such as the CLA, whose artists' list is long and impressive that our work is now seen by thousands of people."
For a Native reenactor or anyone who may want a unique work of art, this Prisoner Tie certainly fills the bill.
Contact Information:
Darrell Brandenburg 32441 Oakview Drive Warren, MI 48092 Phone: 586-264-6553 Email: calais76@comcast.net
Tom Gifford can be reached at:
Tom Gifford 1288 Rule Hollow Rd. Sevierville, TN 37876 Email: Thomasgifford27@gmail.com Phone: 513-504 6693
Click here to see more images of A Woodland Native Prisoner Tie by Darrell Brandenburg with Quillwork by Tom Gifford
The photo and text used here are from the CLA article with the same name. The sole purpose here is to benefit the CLA Auction in August. — editor