The Ties That Bind the Hands of a Craftsman
By John W. Hayes
Photography by Rick Lambert, James Blake, and H. David Wright
Native American crafts true to the past
Capturing the true spirit of the material culture of the 18th century is a passionate way of life for James Blake, whose quill work and finger weaving bind him to the rich heritage of the Woodland Indian of Colonial America. Quill work is an ancient form of decoration practiced by numerous American Indian tribes, whereby the quill is dyed, flattened, and affixed to apiece of Animal skin or bark medium. It is generally woven or wrapped, in intricate detail, around threads, which are anchored into the medium.
Finger weaving is a technique of weaving sashes, garters, straps and bags without the use of a loom. Yarn is woven over and under the strands next to them, obliquely to the left or right, creating a slanted weave. It may be single or multicolored depending largely on the type of weave. Some weaves include beads.
Each art form is equally demanding in its creation and requires patience, understanding, diligence – and research. James patiently produces and plies his craft at numerous trade fairs and conferences. Most notable of the two is his quill work. It is as eye catching as his eastern woodland-warrior adornment.
I had a chance to meet with James at the Raid on Martin's Station this May 2010. While seated at the edge of his trade blanket we talked about his love for the craft. I viewed many items among which was his Woodland Indian porcupine quill work. To sum it up, it was neat and tight!
James explains how he "attempted quill working," in his own words, "I first attempted quill work in 2002, and that's what it was, an attempt. I was self-taught. I learned from books like William C. Orchard's, The Technique of Porcupine Quill Decoration Among the North American Indians. I think Orchard's work is the most thorough, in that he uses ethnographic examples to show the different techniques of quill work"
He still has his first piece, it was crude but it was a start. He apparently made up his mind that this was a craft that he was going to get right; and with that first work, he put his dogged persistence to good effect. In the years since that first attempt, he has delved into extensive research on the numerous Native American designs and the mediums for their application. In addition to that, there is the tedious process of experimenting with and successfully applying natural dyes, which has given him a core of experience that shows in his work. When recreating the historical look for some collectors, he has found himself vexed by the "lost" art of capturing a particular color for the intended piece. It is understood at that point between the collector and James that the piece accurately reflects the look of a period original. He uses only natural dyes for all his materials, since using modern substitutes is unacceptable, if it can be avoided. In the back of his mind there is always the nagging question of how to achieve the same dye effect with natural dye processes. He looked at me from across the blanket, his head cocked to one side and tilted forward, his palms tilted up as he made the point, "If it was done 250 years ago, then a person should be able to reproduce the same thing now-a-days."
In his drive to use natural components, James returns to the woods and earth for both work and play. Having grown up in West Virginia, he feels the most connected to that area, which is where he collects many of his materials. His enjoyment of collecting and gathering came from the times his father took him out to gather ginseng, yellowroot, natural medicines, and natural dyes; he regards those times as blessings. A member of the NMLRA and the CLA, he also loves trout fishing, and deer hunting with a muzzleloader. In the garden, he and his wife, Marya, (an artist in her own right) grow heirloom corn, beans, squash, and herbs (along with modern ones) which is yet another facet of utilizing his ties to the past.
The same dedication to quill work has also gone into his efforts to produce finger weaving. He started in 2005 trying to reproduce it from a book, but after a great deal of consternation, he finally consulted his good friend Duane Schreckengost who helped by patiently watching James, pointing out and then correcting mistakes. The corrections were like finding bits of silver among the dross.
When something does not come easily, one tends to pay closer attention just to grasp the basics. James is no different; his skill has been earned the hard way. Though he feels he is a common man, others see his uncommon dedication, or rather, rare ability to focus on his task, which is hard to find in today's world, where mediocrity of effort is too-often applauded. What he feels he lacked in skill, he more than made up for in his dedication to extensive research and ruminating on articles like the one written by Tim Connin in the Book of Buckskinning VI (Scurlock Publishing). James explained that with oblique weaving IF JUST ONE STRAND is out of place, it throws the whole piece off. It is very repetitious but it does depend on constant attention to details of an exact pattern.
I was handed a woven and beaded set of garters. I felt the tight weave and could see the evenness of the work. They were exact copies of originals.
His craft has been noticed by historical associations and film producers. Also in line with that is his presence as an actor or extra in a number of historical film productions. As a living historian, of the Indian genre, he has been involved in many documentaries for PBS, the History Channel, and so on; both he and his gear are in demand. The same goes for seeing his pieces in paintings, with the likes of works by historical artists: Robert Griffing, John Buxton, Andrew Knez, Jr., Bryant and Pam White, and Jack Paluh. However, he humorously mentioned that he probably gets a bigger kick out of seeing his work on TV than seeing himself.
Though not a boaster, he can point to numerous display pieces he has on exhibit; because, in addition to being photographed by numerous historical artists, Blake's detailed accuracy has caused him and his work to be highly sought after by a number of museums. A short list is: Harrisburg State Museum, Harrisburg PA; Fort Pitt, Bushy Run Battlefield, Janette PA; Slippery Rock Museum, Slippery Rock PA; Pennsylvania Historical Society, Bethlehem PA; Michigan Historical Society, Lansing, MI; Old Stone House, Clark County Historical Society, Berryville, Virginia; Maine State Museum; and Grand Portage Museum, Grand Portage Minnesota.
His versatility seems to beg the question, which skill is your stronger suit? The answer I received shows that he is as humble as his adornment is fierce. He enjoys doing these things so much that he does not give the concept much attention until someone compliments him on his work. At that point, he feels shocked that someone appreciates his work as much as he likes to make it. The fact is, good work shows in the product of a person who loves what they are doing. His versatility extends to other things as well. He related to me that, "Sometimes the mood hits me to work in completely different mediums like carving a stone pipe."
I had a chance to examine a documented pipe. I ran my fingers over the pewter lined steatite pipe; made in the "calumet" style. He also handed me some natural cordage of Dogbane (Indian Hemp) or the inner bark of Basswood (wiigoob). Of course when working with natural materials sometimes the seasons dictate when the materials are available and hence also dictate the satisfaction of that particular mood. Anyone who is closely connected to the land understands, as does James, that either the craftsman has the items stored on hand or simply has to wait for the proper season.
As we continued to talk at the edge of the blanket, I had an opportunity to examine the Stroud cloth that he produces and sells. James imports the base wool from England, which is an undyed (white) broadcloth weight wool. He then has developed a method to resist dye the material (called "Saved List") to match the look as was done in 18th century, which produces a white stripe where the dye has been blocked, usually at the edge of the selvage. His research has led him to museums, which exhibit surviving examples of cloth that has been recovered from 18th century burial sites and other sources. He also examines period paintings showing Native Americans. Most Saved List Stroud sold on the market today exhibits the cloth edged with a white band. This is correct for late 18th century and nineteenth century and though he produces this style, James, (as far is as known) is the only one to produce a particular 18th century styled Stroud, which has the white bands stepped back from the edge of the cloth. This gives those who do 18th century Woodland Indian re-creation an authentically researched Stroud cloth for their portrayals. James uses the same techniques the old dyers in Gloucestershire used, a binding method that saves the wool from the dye very similar to the tie-dye method we use today.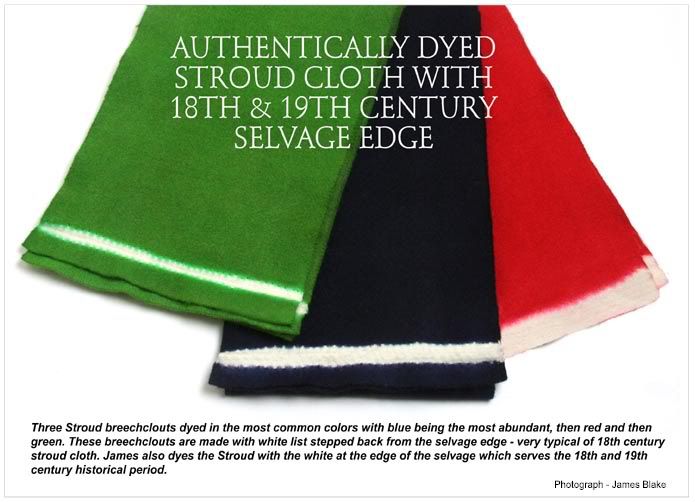 It has taken him nearly four years of research, trial and error and more work but he has perfected it. Producing Saved List wool Stroud has become a family effort in which he is joined by wife Marya and his father-in-law Chris Hays, both of whom have also served as models for historical artists (as mentioned before) including H. David Wright. Later that same day as I thought of the Stroud, I asked a number of the Indian interpreters about its performance. I was told the wool weight is good and the dye set is high quality.
When put to the question of how some of his items work "in the brush" he explained that he has packed-in and "trekked" in many parts of the country while usually portraying a woodland Indian from one of several tribal groups. He further pointed out, "In doing this, I've gotten a small sense of what works and what doesn't, when it comes to being in the bush for extended periods of time. I would like to add though; many items and original pieces were not made for the bush. Some of these were purely for decoration, others contained spiritual symbolism and meaning…AND to express attitudes of war and peace."
James uses a collection of accoutrements and decorations from a number of makers, not just his own. I could sense a bit of humor spilling over as he mentioned that using only his own stuff would be a bit conceited. He, like many fellow interpreter/reenactor types, feels that it is best to support the "variants of others' work," as it makes for a more believable portrayal. He does use his own finger woven powder horn strap, quilled neck knife case, and Stroud. When questioned by a customer, be it a die-hard trekker or a museum collector, James will generally have more than enough experience to give pointers in the use and maintenance of his products.
The use and presence of an item is the crux of the material culture of any society. Even back when he was a neophyte, James realized the continuity between time, place and material culture. He picked up on the relevance of the proper clothing and equipment worn by participants at a number of different Rev' War or F&I events. Many would concur with his thought that: "If the dates of historical events are so important so must be the material culture, in order to give accurate and well rounded interpretations of the periods."
When a project comes to his mind, the product flows from his mind to his hands. It is dyed, twisted, tied, wrapped and bound into a finished product. He is bound to his craft like an arrowhead to a shaft. His connections to the past are the ties that bind the hands of a craftsman.
James and Marya operate White Savage Trading Co. They can be reached at 1-717-334-9444 or by email at: grenhand@yahoo.com
Reprinted by permission of the National Muzzle Loading Rifle Association/ Muzzle Blasts magazine, December, 2010. For information on the NMLRA and other black powder topics please visit the website at www.nmlra.org
Author Bio: John W. Hayes
John W. Hayes has been seriously pursuing living history interpretation for the last 23 years. He lived in Fairfax, Virginia from age four until eighteen and developed a love for Colonial America, especially the Virginia farmer and middle-ground hunter.
He and his family, (wife Connie, daughters Sarah and Johannah and son John) attend several 18th and early 19th century events each year. Their Northern Minnesota home is a recreated colonial style house which John and his family built; where he carries on his freelance writing activities.
He hunts almost exclusively with flintlock rifles and smooth bores and has done so for the past 23 years; taking everything from squirrels to Elk with a flintlock. His experience in the woods, using 18th century life-ways, helps to flesh out his persona when interpreting at a number of historical events.